Citizenship Day Celebration
by Dale Jensen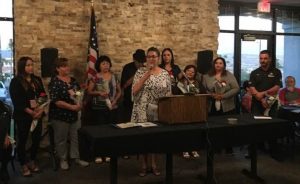 Elena Rivera introduces Barstow's newest naturalized Americans citizens at the Citizenship Day dinner at Los Domingos Restaurant. (photo by Dale Jensen)
Published Tuesday, September 24,  2019, in the Desert Dispatch
The city of Barstow welcomed its newest Americans at the Citizenship Day Celebration dinner at Los Domingos Restaurant on September 17, 2019.
Sponsored by the Mojave Desert Democratic Club, Jane Kolar, club president, welcomed the 80 attendees and the nine honorees. The Pledge of Allegiance was led by Marine Corps Master Sergeant Tiana Tien who was born in Vietnam.
Elena Rivera, event organizer, and Mike Ziemer presented flowers and American flags to the following new citizens: Elfida Aguilar de Butticci, Eusebio Jaimes Diaz, Gloria Elena Ramirez, Lizette Hailey, Luis Quinonez, Maria Elena Guillen, Rachelle S. Schmidt, and Sozy Gad. The new Americans come from Mexico, the Philippines, Columbia, El Salvador, Honduras, Syria, and Egypt.
Maxim Atalla, co-owner of Los Domingos Restaurant and Oggi's Barstow, was also recognized for his contribution to the community. He is a naturalized American citizen from Syria.
Marcellino "Chico" Garza, Special Assistant to the Superintendent of the San Bernardino County Schools, gave an inspirational speech on his life as a son of migrant farm workers in Texas. Although he had difficulty with English and did not finish high school until age 25, he pursued a college degree and has had a successful career in education.
Mayor Julie Hackbarth-McIntyre read the City of Barstow Proclamation with Councilman Tim Silva distributing the document. Elaine Villareal presented certificates from County Supervisor Dawn Rowe, and Rivera presented certificates from Assemblyman Jay Olbernolte. Carrie O'Neal from Barstow Unified School District and Michelle Colleoc from Barstow Community College discussed services locally for people desiring to learn English and study for citizenship.
The Citizenship Day Celebration will become an annual event. Contact Elena Rivera at 760-590-2885 if you will become a naturalized citizen in the coming year or if you know someone who will.